By Mary Yoho, PT TEIS Physical Therapist
The holidays are upon us and so are lots of toy ads, commercials and overload for moms and dads.
Which toy will best entertain your child while allowing the benefit of practicing some gross motor skills?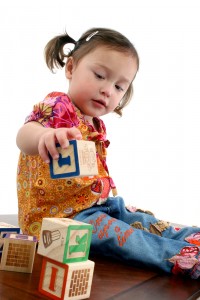 Here are just a few ideas to consider based on the age and stage of your child:
The Infantino Textured Multi Ball Set is great for providing different textures for your baby to feel and is easy to grab and manipulate. As your baby begins to move, she can throw, roll, or crawl after the balls.
The S​assy Floor Mirror​ sits on the floor and provides lots of stimulation to attract your baby while she is lying on her tummy. Spending time on her belly is imperative for development, and this toy will surely engage baby with its bright colors, spinning balls, and a fun reflection to gaze back at her!
Kidoozie Little Tuffies Trucks​ are soft, durable vehicles that are fun to load, dump and push around. Whether your little one is sitting and looking for something to manipulate or wants to crawl after a toy, this is a great choice for practicing those skills.
The L​eap Frog Learn and Groove Musical Table ​can start out flat on the floor to stimulate your baby through music and sound when he is sitting, then later legs can be added so he can practice standing while manipulating the buttons. Each side has activities that can encourage him to cruise around to reach so he begins to practice taking steps with support.
Melissa and Doug created the Deluxe Bug Jug to grow with your child. As an infant he will easily grasp the soft toy, and as he learns to fill and empty the jug with the bugs (over and over again!) he can do it while sitting, kneeling or standing. And, it's a good way to encourage your baby to squat down, pick up the bug and load the jug.
Mega Blocks are ideal for stacking and building for your 12 month old or older. They come in a variety of colors and sizes and can also be used in different positions, like sitting, kneeling or standing. When your little one is done playing, have him load up the bag by squatting to pick up the blocks.
The V​­Tech Sit ­to ­Stand Learning Walker ​is a fun way to learn to walk. Its farm animals and sounds on the front engage your soon­ to­ be walker while sitting or kneeling, and the easy to use handle on the back can encourage pull to stand and walking.
The D​uck Family Pull Along Toy i​s a cute way to have your child practice walking while pulling friends along! It also helps with balance and coordination to manipulate the toy while walking and watching the ducks follow behind.
To create fun and movement inside during the cold weather, the F​ly Bike Foldable Indoor/Outdoor Toddlers Glide Tricycle p​romotes balance and coordination for the 15 month old or older. The L​ittle Tikes First Slide i​s ideal for indoors or outdoors to practice climbing and sliding down for strength, balance and coordination.
These are just a few examples of some toys you might find under the Christmas tree that can encourage gross motor development. Happy playing!