Ah the holidays, shopping, food, gifts, parties, relatives and TODDLERS! You know how stressed you feel during the holidays? Now imagine being a one or two year old who is experiencing all this over-stimulation for the first time. Here are a few tips to help you make it through this busy season of Hanukkah, Christmas, Kwanzaa and New Yea's Eve with as few meltdowns (yours and your child's) as possible.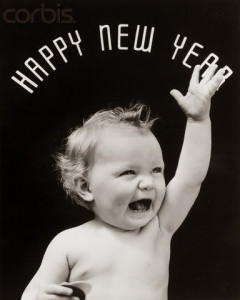 Toddlerhood is the perfect time to start teaching your child about your family traditions, be it lighting the menorah (and learning not to touch the candles) or sitting on Santa's lap (be prepared for tears and/or terror). But, keep in mind that developmentally your toddler does not yet understand what the holidays are all about and all these new routines can be scary and stressful, as well as intensely fascinating (try telling your 18 month old not to touch the tree decorations and lights!). Some simpler holiday traditions for young children might include reading holidays books, singing holidays songs, taking a walk or drive to look at neighborhood light displays or watching holiday programs such as Rudolph the Red Nosed Reindeer.
Keeping a schedule is important for toddlers, so keep in mind that hungry, tired and bored toddlers can turn into holiday meltdowns waiting to happen. If attending parties try to keep nap times intact and bring PJ's or leave the party early so that your child can get to sleep at his regular bedtime. Bring child friendly snacks or pack their own meal so that they can eat and not have to wait for hosts to serve dinners (which may not be toddler friendly). And even though your child will surely be tempted by holidays cookies and sweets, keep in mind that too much sugar can add to your behavioral and sleeping woes.
Keep an eye on your child's cues and try to pick up on over-stimulation before a meltdown occurs. For example, if Melanie is rubbing her eyes and twisting her hair, she's probably getting sleepy, or if Joshua is covering his ears and hiding under the couch pillows he's probably over-stimulated and has had enough. Being aware of these cues can help you head off a tantrum before it occurs.
Most parents do want their child to sit on Santa's lap for a photo, but remember, waiting in a large line at a crowded mall and suddenly being forced to sit on the lap of a large strange man in a red suit with a big white beard can strike fear in the heart of your toddler. If your child is screaming and crying it's best not to force your child to go through with the photo, you'll have plenty more opportunities once your child is older and eager to sit with the big man and tell him what they want to see under the tree.
Finally, no matter how well you prepare, there WILL be tantrums. Kids between ages 13 months and 3 are just in that developmental stage. The calmer you are, the calmer you'll help your child to stay. You, as an adult, have self-regulation skills that help you cope and (hopefully) not have a tantrum in public. But your toddler doesn't yet have the communication skills, cognitive skills, self-regulation skills or impulse control to not touch shiny baubles, express tiredness or frustration without throwing toys or to not cry, scream and protest when told he can't have a second cookie. Remember to give your child down-time when needed, or move to another room to let them re-group or worst case scenario leave a party or relative's house for your child's benefit.

Send to a friend!