By Maggie Yuhas, MOT, OTR/L TEIS Occupational Therapist
Ready to move on from the bottle or sippy cup, but not quite ready for an open cup? Straws can be a great next step, but tricky to introduce. Before transitioning to a straw cup, consider introducing a straw independently at first. There are a few helpful strategies to consider when bringing straws into your child's life.
Start with seeing straws. When under supervision, place straws out with their toys to help your child get used to seeing them. This also allows them to touch and explore it on their own terms.
Playing with straws (if age appropriate). If your child has a baby doll or stuffed animal, use the straw during pretend play with the toy. If your child is able, use straws for games, such as blowing cotton balls or tissues; you can even set up an obstacle course for them to blow the object through!
Use a squeezable cup. Some straw cups are made from a thinner plastic, which allows you to squeeze a small amount of liquid into your child's mouth whenever they close their mouth on the straw.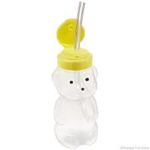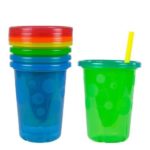 Using liquids. Another method is to place a straw into a liquid, place your finger onto the exposed end, so some liquid is trapped, then removing your finger once the straw is in your child's mouth.
Bring on the food. When giving your child yogurt, applesauce, puree, or a thickened liquid, also give them a straw. They may use it like a spoon, but that is a good first step. You can also suck a small amount of the food into the straw, and then dip the end with the food, so that some food is around the outside. This way, they get some food, even if they cannot suck it out just yet. Some straws also fit into the applesauce or puree pouches, so your child can use a straw, even if you are on the go. Pouches also work for squeezing small amounts through the straw; however, you may need to suck some of the food to the top of the straw before presenting it to your child.
Be a role model. Use a straw yourself when teaching your child. Then they can see how to use a straw, and are also encouraged to use it to be like you.
Keep trying! Don't forget to read your child's cues; if they do not like the sight of a straw, do not immediately give it to them with food. It may also take some time before they are able to suck food or liquid from a straw, but that is okay, keep allowing them to try!
Safety is always important, so make sure to always have your child in sight when using straws, especially if they are younger. You can also hold the straw for them to prevent harm.
If your child is having a hard time, trying changing your approach, or changing the food or liquid you are using to something more motivating to the child.

Send to a friend!