By TEIS Early Intervention Staff
Coronavirus (COVID-19) Information and Resources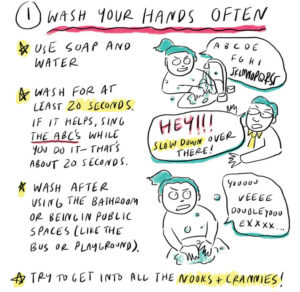 On this page, we will present Coronavirus information and resources as they become available to us,
Available Downloads:
Family Resources – Ideas and Useful Links
Hello Families!! Below is a list of helpful resources with links and ideas for activities at home. I'm hoping you'll find this list helpful.
United Way of Pennsylvania provides connections to resources within the community.  https://www.uwp.org/programs/2-1-1/
For more information regarding COVID-19 and activities at home visit TEIS's website. https://teisinc.com/30-days-activities-infants-toddlers/
Scholastic 20 days of free learning. https://www.scholastic.com/teachers/teaching-tools/articles/resources/scholastic-learn-at-home–free-resources-for-school-closures.html
Cosmic Yoga is offering 2 weeks of free yoga for you and your little one. www.cosmickids.com
GoNoodle is an app for elementary schools to keep kids moving and alert during school. Useful for school-aged children.
Zoos and Aquariums (Pittsburgh, Georgia, Cincinnati, etc.) are livestreaming webcams and virtual tours for some animals. Great for modeling animal sounds and labeling!
Libraries (Penn Hills Library)  are live streaming circle time and activities. Libraries are offering a variety of ebooks and audiobooks.
Nature walks are our favorite right now as we and some kids can't handle screen time well. Print or download scavenger hunts off of Pinterest and the kids get bags to collect "stuff." Or take pictures of things you don't want in the house. Then you can use the items or pictures to create a book, label the items, or explore sounds (crunching leaves, crashing rocks.)
"Writing a book" is also something that all ages can be involved in. Older kids can write and illustrate one, but 2-3 year olds can gather items or "draw" while the parent or older sibling can narrate the story line. Keeping it positive and happy can provide a better mindset. However, if kids seem anxious at this time "writing" the story can get out the "bad" feelings and then have a moment to "get rid" of the "bad" and move forward. Making feelings visual and concrete help children deal with them and talk about them.
Marbles is a kid's museum in Raleigh that offers a daily dose of play on their youtube page. https://m.youtube.com/user/MarblesKidsMuseum
Information from the CDC
COVID-19 is a novel (new) coronavirus that was first detected in China and which has now been detected in almost 90 locations internationally, including in the United States. The virus has been named "SARS-CoV-2" and the disease it causes has been named "coronavirus disease 2019" (abbreviated "COVID-19").
The virus is thought to spread mainly from person-to-person.
Between people who are in close contact with one another (within about 6 feet).
Through respiratory droplets produced when an infected person coughs or sneezes.
The virus that causes COVID-19 seems to be spreading easily and sustainably in the community ("community spread") in some affected geographical areas.
Community spread means people have been infected with the virus in an area, including some who are not sure how or where they became infected.
Careful precautions, the kind we should always take with any illness should be followed – hand-washing, avoiding placing your hands in your mouth or near your eyes, covering your mouth with a tissue or your shirt sleeve when you cough or sneeze, are all great ways to protect yourselves.

Send to a friend!