Applied Behavioral Analysis and Autism
ABA Therapy Can Make the Difference
Have you heard of ABA Therapy? It is often used to help children with autism reach their fullest potential.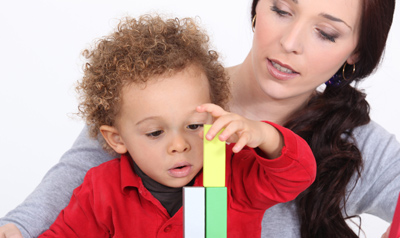 ABA stands for Applied Behavioral Analysis. ABA is a science based technique for behavioral engineering that starts with understanding the basis of particular behaviors and then rewarding positive behaviors and discouraging negative ones.
The analysis in ABA is based on a careful assessment of a behavior's cause, followed by testing various methods that produce changes to that behavior. In this way, ABA is very much customized to the individual, starting with a record of their initial (baseline) behaviors, observing the reasons those behaviors occur, and finally finding ways to encourage positive changes that will have an impact on the child's ability to cope, socialize, and succeed.
ABA and Autism
Autism is a complex disorder involving difficulty in social interaction, impairment of communication skills, and often the presence of repetitive patterns of behavior. The onset of autism is typically before the age of 3 years, and the severity of the disorder can vary widely from individual to individual, which is why autism is referred to as a "spectrum" disorder.
ABA is used to help children with autism improve their social, communication, and play skills. Positive reinforcement and individualized treatment plans can result in positive and meaningful behavioral change for children with ASD.
ABA and Early Intervention
The importance of providing children with needed therapy as early as possible cannot be overstated.
Between the ages of 18 months and 6 years-old, your child's brain is developing faster than at any time since they were in utero. It's a time of potential and of preparation. For some, developmental challenges and disorders like Autism Spectrum Disorder (ASD) present roadblocks to progress in learning and developing socialization skills.
ABA Therapy, like Early Intervention, is most effective when children begin treatment programs early, between the ages of 0 and 3. Parents choose early intervention therapies because they have been shown to yield benefits both immediate and life-long in areas such as behavior, academic achievement, delinquency and crime, and eventual career attainment.
ABA Combined with Other Therapies
Early Intervention therapies are effective compliments to ABA Therapy, as they also can make a significant impact in helping children with autism reach their fullest potential.
Speech Therapy
Communication is more than just speaking.  Children with Autism may have difficulty understanding words and using gestures, following directions, and learning to read or write. Speech therapy, performed by speech-language pathologists (SLPs) is the treatment of communication problems and speech disorders.
Occupational Therapy
Occupational Therapy helps children with autism perform better in school and at home. The word "Occupations" refers to meaningful daily activities from eating to getting dressed, playing games, and more. Occupational therapists work with families and teachers as a team to create a plan addressing your child's priorities. 
Nutrition Therapy
Children with autism may be five times more likely to have mealtime issues, including tantrums, picky eating, and ritualistic behaviors. These difficulties can result in diet related diseases and poor nutrition. Nutrition therapy involves the development of specially tailored diets created and monitored by a professional nutritionist.
Physical Therapy
Children with ASD may have difficulties with gross motor skills, affecting muscle coordination and posture. Physical therapists devise exercise treatment programs to help increase a child's flexibility and range of motion. This helps children with autism improve movement skills needed for games and sports.
Receiving ABA Therapy
Once an autism diagnosis is official, an ABA assessment is completed and a treatment plan is developed by a BCBA.  Board Certified Behavior Analysts (BCBAs) hold a master's degree, are state licensed, and nationally certified. ABA staff work directly with your child and your family.  They are specially trained professionals holding a Registered Behavior Technician (RBT) certification.
These highly qualified therapists work with your child using proven, research-based learning and motivation principles. Positive reinforcement, intensive teaching, and intervention strategies help prepare children for success in kindergarten and for maintaining momentum as they integrate with others at school.
To learn more about the benefit of Early Intervention for children diagnosed with Autism Spectrum Disorder or about ABA Therapy, call TEIS Early Intervention at 412-271-8347 or visit our Contact Us page to get help today.
You can also learn more about ABA Therapy in Pittsburgh at the new website for ABA Abilities.

Send to a friend!